TERI develops India's first renewable energy based Smart Mini-Grid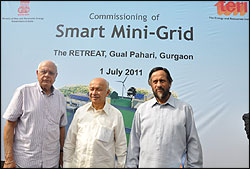 TERI, with support from the Ministry of New and Renewable Energy (MNRE) and its local implementation partners designed, developed and recently commissioned India's first-of-its-kind Renewable Energy based Smart Mini-Grid (SMG) system by using advanced digital and control techniques. The innovative system was commissioned by Dr Farooq Abdullah,Union Minister for New and Renewable Energy in the presence of Sushil Kumar Shinde, Hon'ble Union Minister for Power and Dr R K Pachauri, Director-General, TERI at the RETREAT, in Gual Pahari, Gurgaon on 1 July 2011.
A SMG is an intelligent electricity distribution network, operating at or below 11kV, to provide electricity to a community. These SMGs use advanced sensing, communication and control technologies to generate, manage, distribute and utilize electricity at the local distribution levels more intelligently and effectively. The electricity is supplied by a diverse range of Distributed Energy Resources (DERs) and typically include a range of renewable generators such as solar PV, micro-hydropower plants, wind turbines, biomass and/or small conventional generators such as diesel gensets.
The research, design, and construction of the SMG have been undertaken by TERI, with inputs from experts. The system is uniquely placed to strengthen the country's electricity sector by creating a platform to use distributed power optimally, while enhancing the performance of rural electricity supply systems simulteneously. It can be incorporated as part of the Government of India's flagship programmes - the Jawaharlal Nehru National Solar Mission (JNNSM) and the Rajiv Gandhi Grameen Vidyutikaran Yojana (RGGVY), a scheme for rural electricity infrastructure and household electrification.