Technology Discussion Forum on Solar Lighting
TERI and TERI University jointly organized a Technology Discussion Forum (TDF) on Solar Lighting on 14 November 2011. The objective of the discussion was to bring key stakeholders in the lighting sector on a common platform to collectively develop a framework for quality benchmarking of solar lighting products and to discuss key technical areas for collaborative research over the course of next three to five years.
Over the past few years the solar lighting market has grown rapidly in response to a strong global commitment towards providing quality lighting to people without access to electricity. This growth has ushered in new players with diverse solar lighting products having different features and attributes. Further, the lighting industry has also been constantly introducing new and innovative technologies and concepts which are expected to be adopted in the solar lighting sector. However, the market intelligence, technical reports and consumer feedback do not always support the same. Further, since the solar lighting caters mostly to rural and remote segments of the community, there are additional attributes and characteristics, mainly pertaining to durability, reparability, usability, that a solar lighting product is expected to carry.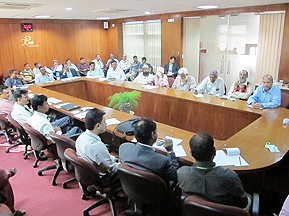 TERI, as a driver of innovative technological solutions for a better tomorrow, raised these questions through its uniquely positioned Technology Discussion Forum. The forum gathered experts from various sectors including the Ministry of New and Renewable Energy, International Finance Corporation, World Bank, semiconductor industry (Texas Industries), battery industry (Panasonic, Regnant Lighting, HBL), LED industry (Nichia), standard formulating and certification group (UL India), Solar Photovoltaic module manufacturers (Moser Baer), and system integrators (Gautam Polymer, Avni Energy Solutions, BNK Energy Alternatives, Global Telelinks).
The TDF was moderated by Dr. B. Bhargava, Director-SPV, Ministry of New and Renewable Energy (MNRE). The three hour discussion highlighted the urgent need for:
Benchmarking from the consumer perspective and developing a quality seal.
Development of reference designs through industry collaboration, and organizing design contest.
Streamlining of manufacturing processes, testing, and independent evaluation of manufacturing facilities.
Developing a roadmap for R&D in the lighting sector with a focus on optics and system integration.
Developing a consumer awareness programme.
As an important outcome of the TDF, a Consortium of Experts on solar lighting will be created and reference designs will be drawn up.