Measuring the green quotient: LaBL weds Greenathon
7 - 8 February 2009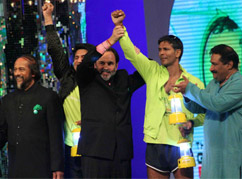 It was only at 11 pm on the night of 7 February 2009 that one realized that NDTV Greenathon was going to be one of the greatest milestones in the history of LaBL Campaign. It was the time when Vikram Chandra of NDTV claimed to have exhausted the list of villages that were to be allotted to sponsors on television. Merely four hours from the start of the programme, 18 villages were already allotted to the sponsors, meaning that about 6 million rupees were raised in just four hours. Keeping this pace, the Greenathon was able to raise 2.4 crore rupees during those 24 hours out of which 1.4 crore rupees (about 60%) could be realized till 31 March 2009.

Sustainable development is an issue that has been around for sometime now. We hear about it everyday, on the news, the radio, watch documentaries on television, and read about it in newspapers. For most of us, it is a mere phrase that means sustainability of water, food, shelter, and energy. But in spite of the awareness, a mass action towards this large-scale matter had been missing.

Sustainable development is not just about agreements and decisions made at national and international forums by world leaders on what needs to be done on this front. It is also about connecting the masses, the population of a country to the need and urgency of being environment-friendly citizens or EnviroZens.

For any reform to be successful, what is crucial is social consciousness transformed into actions that matter to save our planet. Greenathon provided this much-desired platform to encourage enlightened citizens of the country to be environmentally responsible by responding to support the most urgent need pertaining to the development of rural India: access to clean sources of lighting.

For billions of people in India and across the world who lack access to clean sources of lighting, this well-thoughtout initiative generated widespread support by bringing together like-minded people from all walks of life on a common platform.

Greenathon's evolution dates back to mid-August 2008 when TERI became NDTV's knowledge partner. The association of TERI with NDTV led to a greener media thinking resulting in collaboration of Toyota Motors Ltd and NDTV to start a campaign called 'Open up Today, Tomorrow', towards a Greener future. An integral part of this was the 24-hour telethon that was later renamed as NDTV Greenathon.

Greenathon was an initiative to test and measure the pro-environment quotient among people across nations throughout the world. A testimony for this was expected in terms of funds that were to be raised for the unique campaign, LaBL, initiated by TERI in January 2008.

The success of Greenathon's fund-raising activity was largely based on the transparency as well as objectivity of the campaign portrayed by NDTV. In other words, the donors actually knew and could pinpoint the village that was going to be lit through their donations towards the campaign. Apart from this, several features were showcased during the Greenathon that gave a clear idea about the impact in villages where LaBL initiative has been implemented. An effective concept here was the comparison of a village's development profile before and after LaBL implementation.

Greenathon saw thousands of EnviroZens, glued to their television sets, pouring in to commit light up millions of unlit lives in the country. As of now, the initiative has been able to sponsor more than 45 villages including

commitment from celebrities like Shahrukh Khan, Shilpa Shetty, Sanjay Dutt, and Preity Zinta. The entire LaBL team in association with its grass-roots implementation partners has made every effort to make the campaign successful in these villages as early as possible and also to acknowledge the donors therein. This is substantiated by the fact that almost all the villages sponsored by Greenathon, including yours, would be implemented by the time you read this article.

Dr R K Pachauri rightly quoted during the concluding few minutes of the programme that 'This is just the beginning of a long pathway to sustainable development'. Certainly, more of such green media thinking is the need of the hour for a promise towards a greener and sustainable future to the next gen EnviroZens.