LaBL gets global support from Greenathon 3
5 - 6 June 2011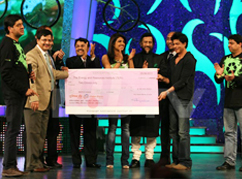 A first-of-its-kind movement for promoting green initiatives, NDTV-Toyota Greenathon 3 (G3), supported TERI's Lighting a Billion Lives campaign for the third consecutive year. G3 created a huge green imprint on citizens internationally this year, by setting up Greenathon hubs that aired the show live in Los Angeles, London, Toronto, Sydney, Tokyo and Cape Town.

The show served as an international platform for TERI to acknowledge support from existing LaBL patrons - the Power Finance Corporation supporting 169 villages, Unitech Wireless Ltd. (130 villages), ICICI Bank (50 villages) and Rural Electrification Corporation (45 villages) - who had agreed to back the cause early this year. This totalled to about Rs 8 crore. An additional Rs 3.6 crore was raised through new pledges in the 24 hours that G3 was telecast.

Concerned citizens from across 14 countries joined G3 to pledge their support online. Noted celebrities like Shahrukh Khan committed to support for 11 villages while Priyanka Chopra, Shahid Kapoor and Karan Johar adopted five villages each. The most notable corporate sponsorship came from the Union Bank of India for a 100 villages. NDTV and TERI adopted 10 villages each.