What is Lighting a Billion Lives?
One of the challenges facing the world today is to provide sustainable energy to all its citizens. The task is massive but solutions often come from small, localized initiatives. Lighting a Billion Lives © is one such initiative.
Over 1.3 billion people around the world have no access to electricity
360 million people in India lack access to electricity
It is a known fact that clean and affordable energy is elementary to one's quality of life as well as for ensuring socio-economic development. Without access to affordable energy it will be impossible to eradicate extreme poverty and hunger; achieve universal primary education; promote gender equality and empower women or even reduce child mortality and improve maternal health.
Inadequate lighting hinders progress and development opportunities
Directly impacts health, environment, and safety.
2.2 billion litres of kerosene burnt each year for lighting
About 5.5 million tonnes CO2 emitted to the atmosphere by burning of this kerosene
The Lighting a Billion Lives campaign is making a concerted effort towards addressing these critical issues as well as bringing about innovations to facilitate interventions enable energy access for all. It has the global understanding of the challenge of providing clean lighting to billions that are at the bottom of the pyramid, and has adopted a localized, bottom-up approach to addressing it.
LaBL offers local and global environmental benefits.
Each solar lantern in its life of 10 years replaces about 500-600 litres of kerosene, mitigating about 1.5 tonnes of CO2.
How does it work?
LaBL is based on an entrepreneurial model of energy service delivery which seeks to provide high-quality and cost effective solar lamps, disseminated through micro solar enterprises set-up in un-electrified or poorly electrified villages. These enterprises are operated and managed by a local entrepreneur trained under the initiative, who rents the solar lamps every evening, for an affordable fee to the rural populace.
Fee for service model: To make solar lighting affordable to the poor sections of society with the user paying only a nominal daily rent. Capital costs are supported by grant to a large extent.
Loan finance model: Providing an option to the operators to take up solar enterprises as their own enterprise by facilitating loans (through financial institutions) and subsidizing partial cost of the enterprise (through TERI and/or the partner organizations including government agencies).
Innovating at every step
LaBL is a unique and measurable sustainability initiative that effectively demonstrates how public- private-people partnership easily supports developmental schemes and initiatives particularly in the area of rural energy access. It started with a pure grant-based model for testing the entrepreneurial fee-for service delivery model which otherwise was not tried on a larger scale in India and gradually moved to a more flexible equity and investment based model for scaling up. It has been able to address two key challenges of (1) scaling up and (2) diversification of funds by demonstrating credibility through ground results and proof of concept. LaBL has been able to achieve this since it aligned itself with government agenda and offers financial viability to attract equity along with technology customization and effective monitoring mechanisms. More >>
Institutional Innovation: Technological Resource Centres
The existing gap in implementation and sustenance of rural energy projects is that of a network of local-level institutions that facilitates micro-implementation of project deliverables, carry out training and capacity building and ensure after-sales services. TERI identified this gap and realized the need for creating a new institution called Technological Resource Centres (TRC). LaBL-TRC is a local level enterprise which provides after-sales service support to LaBL SCSs and is also authorized to market and sell LaBL solar products in a specified territory. Apart from providing next door and reliable after-sales support, it also aids in imparting training and local capacity building for the execution of other energy access projects in the area. It is also trained to service other energy access projects in the area to earn its income A network of incubation centres such as a TRC would not only ensure smooth penetration of newer technology but also its adaptation at the grassroots level. Realizing the crucial role that TRCs will play in rural development, DFID is supporting TERI to set up more than 400 such centres across the country.
Improving the performance of the light output and light distribution through optimum selection of low power, high efficient LEDs and luminary design
Achieving electronic circuit efficiency upto 90% by incorporating latest digital technologies
Integrating newer, high efficient, longer life(1000-1500 cycle), compact, environment-friendly battery into the solar lighting system
Adding reliability, flexibility, easy- reparability into the solar system through improvement in overall system design and system integration based on regular on-field technical and performance evaluation
Developing multi-purpose, high-efficient (upto 85%), versatile Junction Box or solar charger with wide Input-Output ranges and power maximizing circuit for solar lighting system
Developing cost-effective, modular, easy-deployable solar charging station configuration with different solar PV technologies
Following standard operating and monitoring procedures for quality controls and product approval
Innovations in Delivery models
Fee for service model: To make solar lighting affordable to the poor sections of society with the user paying only a nominal daily rent. Capital costs are supported by grant to a large extent.
Loan finance model: Providing an option to the operators to take up solar enterprises as their own enterprise by facilitating loans (through financial institutions) and subsidizing partial cost of the enterprise (through TERI and/or the partner organizations including government agencies).
Harnessing Public-Private-Partnerships for delivering energy access



Extending mobile phone charging facility through solar charging stations through Department of Telecommunication, Government of India
Providing solar lighting to residential schools in remote rural areas in partnership with the Universal Primary Education programme of Government of India
Extending stitching and sewing training to rural women at the LaBL solar charging stations, in addition to the provision of solar lanterns in partnership with Mawana Sugars and Usha International.
Creating income generation opportunities for rural women entrepreneurs by training them on selling mobile telecom services locally in addition to the provision of solar lanterns in collaboration with Uninor
Linking lighting with conservation activities through collaboration with Forest Departments, and organisations like WWF, The Corbett Foundation, Wildlife Trust of India

Linking with micro-finance institutions to augment new and existing rural enterprises



Setting up solar charging stations with MFIs like ASSEFA, which is affiliated for funding with National Bank for Agriculture and Rural Development (NABARD) and state-run rural livelihood programmes like JEEViKA, a Government of Bihar initiative
Promoting innovative financing of solar charging stations with YES Bank Limited to designing and implementing a scale-able semi-commercial business model for financing solar charging stations.
Support from Media and Public
Lighting a Billion Lives has also received tremendous support from the media. In fact, for 3 years in a row NDTV, one of India's largest television news networks' has been airing an annual, dedicated 24-hour show Greenathon, India's first telethon fund raiser. It has upped the ante in providing the necessary fillip by creating awareness about the challenges of clean lighting amongst the masses and garnered support from across different segments of society. In particular, it has provided a unique platform to engage socially conscious companies to make a positive difference to communities under their CSR activities. In addition, the India Chapter of the International Advertising Association (IAA) launched be India's largest ever Public Service Communication Programme for Lighting a Billion Lives in the year 2009 to raise awareness and mobilise funds for the initiative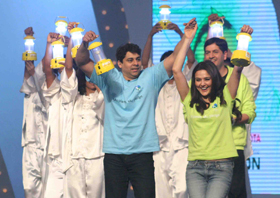 Genesis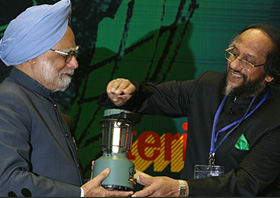 In 2007, at the Clinton Global Initiatives annual meet, TERI committed to bring light and socio-economic development to a million rural people in India. This commitment could only be achieved by displacing kerosene and paraffin lanterns with solar lighting devices within a span of four years. Within a year since that pledge, the idea evolved to encompass a billion people around the world. This unique and far-sighted campaign that illuminates the path to achieving the UN's Millennium Development Goals- Lighting a Billion Lives - was formally inaugurated by Dr. Manmohan Singh, Prime Minister of India, on 7 February 2008 during the Delhi Sustainable Development Summit.
A commitment to enlighten a billion lives with a handful of sunshine
Technology Options
Solar Charging Station
A typical solar charging station consists of 50 solar lanterns, 5 solar panels, and 5 junction boxes. The solar lantern generates light for 4-6 hours daily, providing illumination of 200-250 lumens or the light equivalent to a 40 W incandescent bulb. The LED lamps work for a full night (about eight hours) if operated on the dimming mode. The centralised solar charging stations are set-up in villages and lanterns are provided on rental basis to households and enterprises in the evening.
Features
Solar Panel(50W):
5
Junction Box (with 10 ports):
5
Solar Lanterns
50
Solar DC Micro Grid
Photovoltaic power panels are installed in modular units allowing generation capacity to scale up easily to meet demand. Power is generated during the day but consumed at night. To bridge this gap, one or two battery banks charge during the day while power is generated and discharged at night when consumers are lighting their houses. Power is distributed over a short distance from the battery banks to the cluster of households or shops (each cluster comprises of 20 to 100 households or shops) within the village. Low voltage electricity is distributed for 4 hours each night to power the household/shop lights. By utilizing LED lights, power consumption per connection is reduced, thus reducing the requirements to distribute large quantities of power. Each household / shop is provided with one or two LED lights which provide superior quality lighting than kerosene lamps at comparable cost. Use of solar energy eliminates any fuel supply needs.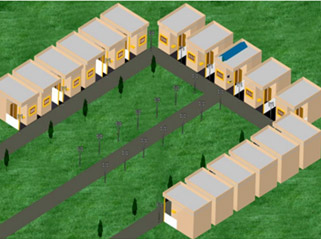 Features
Households covered
50
Solar panel (24V, 400Wp)
4
Battery (24V, 100Ah, VRLA battery)
4
Charge controller Unit (CCU) (24V, 20Amp)
1
LED lamps/light (2W, 1W)
100
Beyond Frontiers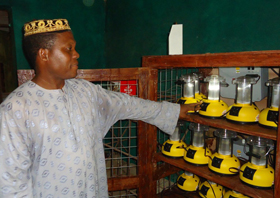 The campaign is also spreading its light across Africa, South Asia and South East Asia. Besides providing solar lighting to villages in African countries to further UNMDGs the LaBL campaign is also expanding through local partnerships, beginning with 2 solar charging stations in Sierra Leone Also, under the Asian Development Bank's Lighting for All initiative, Lighting a Billion Lives is poised to bring modern lighting to 50 million people in Asia-Pacific by 2015.